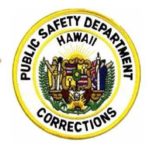 The Hawaii Department of Public Safety (PSD) Health Care Division is working with the Hawaii Department of Health (DOH) to conduct mass testing for COVID-19 at all correctional facilities statewide. The testing, administered by PSD health care nurses, began today with the Waiawa Correctional Facility (WCF). The broad-based testing, which started this morning at the facility, was expertly coordinated by the WCF warden, his security staff, and the PSD Health Care Division.
Maria Cook, Deputy Director for Administration/Acting Director, says says test results will be available within three days.   She said the Waiawa warden has a pandemic plan for inmate isolation and quarantine, and creating inmate "bubbles",  if needed.
The order of the facilities next in line for testing is still being worked out. The Department will also work with DOH and the National Guard to coordinate the testing of correctional officers and staff.
Director Nolan Espinda is currently on personal leave, and will retire October 1, amidst criticism for the high number of COVID-19 cases at the O'ahu Community Correctional Facility and what many felt was inadequate testing, and insufficient protection for employees and inmates.
Cook says facilities now have adequate Personal Protective Equipment.  For the PSD Pandemic Plan, dated Sept. 8, 2020, click here.