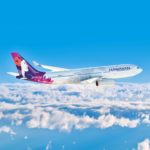 Gov. David Ige has announced that interisland travelers going to Kaua'i or Maui Counties may now bypass the 14-day interisland travel quarantine by getting a test with a negative result no earlier than 72 hours prior to departure to those counties.
The Governor confirmed eight trusted testing partners for inter-county travel, from whom passengers may get tests.  The tests from these partners and their certified CLIA labs are an FDA-authorized Nucleic Acid Amplification Test (NAAT).
This new interisland travel quarantine waiver does not apply to those coming to Hawaii County.   Mayor Harry Kim has approved a quarantine waiver for travelers from out of state who arrive with a certified, negative test from one of the State's partners, with the test within 72 hours of departing on the Hawaii-bound flight, plus they must take a rapid test with a negative result at the Hilo, Kona, or Waimea airports.
Travelers going to Kaua'i and Maui Counties may register on and upload their test results to the Safe Travels Hawaiʻi account.  Inter-county travelers must have the test result with them upon arrival so airport screeners can review the result.
Those who do not choose to take a pre-travel test or who do not arrive with a negative test from a trusted testing or travel partner will continue to be subject to the existing 14 day inter-county quarantine or may seek an exemption from the county they are traveling to.
"Travel between our islands is essential to our residents staying connected with family and friends and conducting business. And many of our visitors want to experience all our island state has to offer. We are grateful to our trusted partners who are helping to make inter-county travel safer," said Gov. David Ige.
The eight trusted testing partners for inter-county travel are:
"We are pleased to participate in the State of Hawai'i's pre-travel testing program as a trusted testing partner, working together with our laboratory partner, Clinical Labs of Hawaii, to support the state's efforts to safely and gradually open travel for both residents and visitors," said Hawai'i Pacific Health President & CEO Ray Vara. "As we've seen through this pandemic, the public health of our community and the health of our state economy are truly dependent on each other. A strategic testing plan, including travel screening, is a key component to building the public health infrastructure Hawai'i needs to put us on the path to economic recovery, and Hawai'i Pacific Health is committed to this effort."
As trusted testing and travel partners added to the Safe Travels Hawaii program, they will be uploaded to www.hawaiicovid19.com, where more information on intercounty pre-travel testing and the Hawaii Safe Travels program can be found.