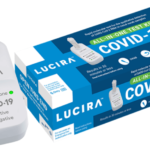 U.S. Food and Drug Administration issued an emergency use authorization (EUA) for the first COVID-19 diagnostic test for self-testing at home and that provides rapid results.  It will be available by prescription only.
The Lucira COVID-19 All-In-One Test Kit test has been authorized for home use with self-collected nasal swab samples in individuals age 14 and older who are suspected of COVID-19 by their health care provider. It is also authorized for use in point-of-care (POC) settings (e.g., doctor's offices, hospitals, urgent care centers and emergency rooms) for all ages but samples must be collected by a healthcare provider when the test is used at the POC to test individuals younger than 14 years old.
The test works by swirling the self-collected sample swab in a vial that is then placed in the test unit. In 30 minutes or less, the results can be read directly from the test unit's light-up display that shows whether a person is positive or negative for the SARS-CoV-2 virus. Positive results indicate the presence of SARS-CoV-2.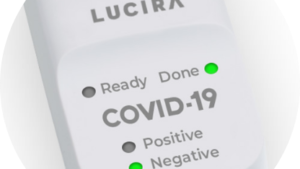 The FDA says that an important component to successful at-home testing is the ability to efficiently track and monitor results. As noted in the EUA, prescribing health care providers are required to report all test results they receive from individuals who use the test to their relevant public health authorities in accordance with local, state and federal requirements.
Lucira Health is a biotech startup located in Emeryville, California (between Oakland and Berkeley), founded in 2013.  According to ABC7 News in San Francisco, Lucira health was started by four University of California graduate students.  Apparently the company had been working on a rapid flu test, but switched gears as the coronavirus pandemic began.
On its website, Lucira says "In a Community Testing Study, where the Lucira test was compared to a FDA authorized known high sensitivity SARS-CoV-2 test, Lucira achieved a 94% positive percent agreement (PPA) and a 98% negative percent agreement (NPA)."
Photos courtesy Lucira, Inc.