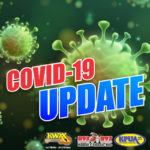 The State of Hawaii has confirmed 107 new COVID-19 cases, bringing the state's total to 16,841.  A total of 1,597 people have been confirmed to have COVID-19 within the past 14 days.  That does not tell us how many people have active cases, but it tells us that at least 1,597 people have active cases.  The state of Hawaii has lost, by official count, 223 people to COVID-19
Residents of O'ahu have been confirmed with 75 new cases, there are 9 additional people with COVID-19 on Maui Island, there are 7 Hawaii residents out of state who have been diagnosed with COVID-19, and there are 4 people on Kaua'i with newly-confirmed cases.  Neither Lana'i nor Moloka'i have reported any new cases.
The Big Island has 12 people with now-confirmed cases of COVID-19.  That brings the Big Island's total to 1,499 cases, with 186 people diagnosed within the past 14 days.  The County is reporting 49 deaths from COVID-19, although the State has so far only included 32 in the official count.
As Thanksgiving approaches, health officials nationwide and in Hawaii are pleading with people to avoid large gatherings, to wear masks, and to double down on hygiene measures.
The State's noon Thursday report, which includes State Department of Health numbers as of Tuesday night at 11:59 p.m.:
Hawaii
| | |
| --- | --- |
| Total Cases: | 1,499 |
| Cases in the Past 14 Days: |    186 |
| Required Hospitalization: |     73 |
| Deaths: |     32 |
Kauai
| | |
| --- | --- |
| Total Cases: | 86 |
| Cases in the Past 14 Days: | 19 |
| Required Hospitalization: |  6 |
| Deaths: |  0 |
Lanai
| | |
| --- | --- |
| Total Cases: |  106 |
| Cases in the Past 14 Days: |     3 |
| Required Hospitalization: |     5 |
| Deaths: |     0 |
Maui
| | |
| --- | --- |
| Total Cases: | 463 |
| Cases in the Past 14 Days: |   54 |
| Required Hospitalization: |   60 |
| Deaths: |   17 |
Molokai
| | |
| --- | --- |
| Total Cases: | 17 |
| Cases in the Past 14 Days: |  0 |
| Required Hospitalization: |  1 |
| Deaths: |  0 |
Oahu
| | |
| --- | --- |
| Total Cases: | 14,506 |
| Cases in the Past 14 Days: |    1,190 |
| Required Hospitalization: |    1,081 |
| Deaths: |       173 |
Out of state
| | |
| --- | --- |
| Total Cases: | 164 |
| Cases in the Past 14 Days: |   75 |
| Required Hospitalization: |    2 |
| Deaths: |    1 |