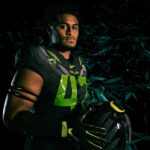 Hawai'i-based Sig Zane Kaiao – the design and branding arm of famed Hilo clothier Sig Zane Designs – was chosen to design uniforms for the University of Oregon's football program. The designs, in partnership with the University and Nike, honors the traditions of the Pacific and pays tribute to the myriad of players from Polynesia. The designs are also a part of Nike's and the Ducks' 'Ohana Collection. 
"When asked to conceptualize the uniforms, we wanted to underscore universal themes that are at the core of all teams: experience, vision, methods, goals and others," said Sig Zane Kaiao's Creative Director Kūhaʻo Zane. 
"We take all of these core values of teamwork and we think about how our Polynesian players have added to this program, we think of Hawai'i's own, Marcus Mariota and his Polynesian roots, we think about the Pacific, and the idea of Polynesian navigation becomes the storyline. The lashings that bind the sails to the canoe is the same concept of team unity; Using the stars to set a course is akin to the football team's coach mapping out a playbook," said Sig Zane, a leader in Hawai'i's fashion industry and cultural design aesthetic. 
The Ducks will showcase their new uniform-wear in a home game on Saturday, November 21, 2020, against the University of California Los Angeles.  
"As each recruit leaves their home to join their new family it is these values that are essential to building a strong 'ohana – a family unit – universal principles that remain the core of Polynesia. We are honored and humbled to weave in values and stories from the Pacific into a team who has produced leaders from across the nation in this sport," said Kūha'o.  
Throughout Hawai'i, the Sig Zane Kaiao team has designed notable corporate brands and identities true to their design research, style and aesthetic: Hawaiian Electric Industries, 'Ohana by Hawaiian Airlines, Hawai'i Pacific University and many more. 
Sig Zane Kaiao is a culturally creative agency specializing in identity, branding, cultural consulting and marketing.  Each design and consultation is rooted in the practices and protocols of Hawai'i's host culture which provides designs that honor the place and space while remaining relevant and cutting edge.  
Sig ZaneKaiao also serves at the design department for Hawai'i's famed clothier Sig Zane Designs.
The Sig Zane store in Hilo had some of the Oregon Ducks merchandise online this morning, but it sold out almost immediately.  They say you may get the Sig Zane Ducks' 'Ohana Collection at nike.com.
Photos courtesy Sig Zane