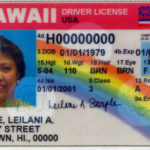 Hawaii County is allowing people to schedule appointments to renew their Driver's Licenses up to 180 days in advance — but the appointment needs to be within 30 days of the expiration date of the Driver's License.
Naomi O'Dell, Administrator of the Vehicle Registration and Licensing Division, says the County has around 1,400 people whose licenses have already expired.  She said if somebody is going to be out of town during the 30-day period in advance of their license expiring or there are special circumstances, they will deal with those situations on a case-by-case basis.
The TSA says because of COVID-19, it will accept expired driver's licenses or state-issued IDs a year after expiration or 60 days after the duration of the emergency, whichever is longer.  TSA has also extended the deadline for travelers to have the "REAL ID", which is the kind of identification issued by Hawaii, with the gold star, to October 1, 2021.  For more about TSA requirements and changes because of COVID, click here.
To make an appointment to renew your Driver's License, apply for a new one, get a duplicate license, and get a State ID, among other things, go to the scheduling page.  The system allows you to make an appointment within the next 6 months, and because appointments are already full through mid-January, it's best to schedule well in advance.  The system will provide a list of documents you will need to prove your identity and address, and ask which you will bring.
There is more detail about all aspects of the Vehicle Licensing and Registration procedures–click here.
Sample Driver's License courtesy Hawaii County Police Department.