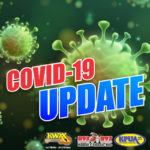 The State Department of Health has confirmed 95 new cases of COVID-19 as of its noon report today.  The numbers reflect the count as of Wednesday night at 11:59 p.m.  The State  COVID-19 Joint Information Center says it takes the DOH around 36 hours to compile the numbers and ensure they are accurate, hence the new reporting which reflects numbers from 36 hours earlier.
The State DOH has confirmed 224 deaths from COVID-19.  On the Big Island, 49 people have died.  Only 32 of them are in the State DOH's official count.
O'ahu has the most new cases, at 70.  There are 6 new cases in Hawaii residents who are out of state, 5 on Maui, and 1 on Kaua'i.  There are no new cases on Moloka'i nor Lana'i.
The Big Island has 13 new confirmed cases, and 156 within the past 14 days, so at least 156 active cases.  A total of 74 people on the island have been hospitalized.
The State's noon report:
Hawaii
| | |
| --- | --- |
| Total Cases: | 1,512 |
| Cases in the Past 14 Days: |   156 |
| Required Hospitalization: |    74 |
| Deaths: |    32 |
Kauai
| | |
| --- | --- |
| Total Cases: | 87 |
| Cases in the Past 14 Days: | 19 |
| Required Hospitalization: |  6 |
| Deaths: |  0 |
Lanai
| | |
| --- | --- |
| Total Cases: | 106 |
| Cases in the Past 14 Days: |     1 |
| Required Hospitalization: |     5 |
| Deaths: |     0 |
Maui
| | |
| --- | --- |
| Total Cases: | 468 |
| Cases in the Past 14 Days: |   54 |
| Required Hospitalization: |   60 |
| Deaths: |   17 |
Molokai
| | |
| --- | --- |
| Total Cases: | 17 |
| Cases in the Past 14 Days: |  0 |
| Required Hospitalization: |  1 |
| Deaths: |  0 |
Oahu
| | |
| --- | --- |
| Total Cases: | 14,576 |
| Cases in the Past 14 Days: |   1,071 |
| Required Hospitalization: |   1,086 |
| Deaths: |        73 |
Out of state
| | |
| --- | --- |
| Total Cases: | 170 |
| Cases in the Past 14 Days: |  69 |
| Required Hospitalization: |    2 |
| Deaths: |    2 |