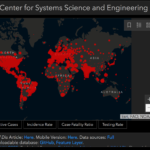 The Johns Hopkins COVID Dashboard for Tuesday, December 1 at 5:27 a.m.:
Worldwide cases: 63,396,852   Worldwide deaths: 1,471,553
U.S. cases: 13,554,038   U.S. deaths: 268,434
According to the Dashboard, the reported worldwide case report increased by 521,392  in the last 24 hours.  Deaths worldwide increased by 9,790.
According to the Johns Hopkins Dashboard, the United States has added 160,872 cases in the last 24 hours.
On October 31, after 9 months, the U.S. total case count was just over 9 million–around 1 million cases a month.  In just the month of November, the cases in the U.S. have increased by 4.3 million, around 1 million cases per week.
The COVID Tracking Project reports that 96,039 people were hospitalized with COVID-19 as of Monday.  This is the highest hospitalization rate since the pandemic began, and hospitals in several states on the mainland are reporting they are at capacity.
The most recent report from Hilo Medical Center on Friday was that they had no COVID-19 patients and had not had any since Monday, Nov. 23.  As of yesterday, Kona Community Hospital reported they have no COVID patients.  North Hawaii Community Hospital is providing no information, saying it's a matter of patient privacy.
In the last day,  the number of reported deaths in the U.S. from  COVID-19 increased by 1,502.
Both Pfizer/BioNTech and Moderna have now submitted applications for Emergency Use Authorization to the FDA.  Pfizer's EUA will be reviewed Dec. 10, and according to Surgeon General Jerome Adams, Moderna's EUA will be reviewed on Dec. 18.  Today, the CDC's Advisory Committee on Immunization Practices will meet to discuss in what priority order the vaccines should be offered, with the likelihood that front line health care workers and people in senior living facilities will be first.  The meeting begins at 9 a.m. HST and the public may watch online.  Click here for the link and more information.