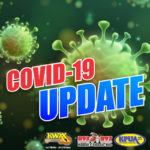 The State Department of Health is reporting only 44 new cases of COVID-19 in the state, but that number reflects the reporting for Sunday of Thanksgiving weekend–so it might be an artificially low number.  The State DOH now reports number two days in arrears.  The total count of COVID-19 cases for the state is now 17,968.
O'ahu has 32 new cases, and there are 5 new cases on Maui, 1 in a Hawaii resident who is out of state, and 1 new on Moloka'i–the first new case on Moloka'i since at least October 26.  It was only on October 26, 2020, that the State broke out the individual islands in Maui County, so that was the first day it was clear how many each Maui County island had.
Hawaii County has added 6 new cases.  The Hawaii County total is now 1,605 cases of COVID-19.  Although Mayor Harry Kim reported that since November 1 there have been 43 cases of COVID-19 in incoming travelers–whether residents or visitors–that breaks down to 1.4 people a day.  The visitor numbers are not included in the County numbers, as the CDC reporting requires reporting in the state of residence.  Dr. Mark Mugiishi, President of HMSA, on Monday noted that the state will never have zero cases of COVID-19, but that the bulk of the cases on most islands are coming from community spread, not coming from incoming travelers due to the pre-travel COVID-19 negative test requirements.  He said the biggest question to answer is whether the County can handle the number of cases it's getting, whether from residents or visitors.  As of yesterday there were no patients in either Kona Community Hospital or Hilo Medical Center with COVID-19.  North Hawaii Community Hospital does not report, saying it's a matter of patient privacy, even though they're not being asked for any identifying characteristics of patients.
The State is still reporting 244 deaths.  Hawaii County has lost 49 people to COVID-19, but only 34 are so far reflected in the state numbers.
The State Department of Health report, as of noon Tuesday, reflecting numbers from Sunday, Nov. 29, 2020:
Hawaii
| | |
| --- | --- |
| Total Cases: | 1,605 |
| Cases in the Past 14 Days: |    119 |
| Required Hospitalization: |     78 |
| Deaths: |     34 |
Kauai
| | |
| --- | --- |
| Total Cases: | 113 |
| Cases in the Past 14 Days: |  31 |
| Required Hospitalization: |   6 |
| Deaths: |   1 |
Lanai
| | |
| --- | --- |
| Total Cases: | 106 |
| Cases in the Past 14 Days: |    0 |
| Required Hospitalization: |    5 |
| Deaths: |    0 |
Maui
| | |
| --- | --- |
| Total Cases: | 547 |
| Cases in the Past 14 Days: |  95 |
| Required Hospitalization: |  61 |
| Deaths: |  17 |
Molokai
| | |
| --- | --- |
| Total Cases: | 18 |
| Cases in the Past 14 Days: |   1 |
| Required Hospitalization: |   1 |
| Deaths: |   0 |
Oahu
| | |
| --- | --- |
| Total Cases: | 15,362 |
| Cases in the Past 14 Days: |     997 |
| Required Hospitalization: |  1,138 |
| Deaths: |     190 |
Out of state
| | |
| --- | --- |
| Total Cases: | 217 |
| Cases in the Past 14 Days: |    0 |
| Required Hospitalization: |    2 |
| Deaths: |    2 |