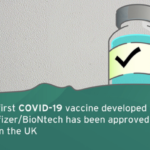 The BBC News is reporting that the UK's Medicine and Healthcare Products Regulatory Agency (MHRA) agency has approved the Pfizer/BioNTech vaccine against COVID-19 for use.  According to the BBC, he first 800,000 doses will be rolled out next week.
The vaccine is likely to be given in hospitals, which have the capacity to store the Pfizer/BioNTech vaccine at the super cold (-90 degrees Fahrenheit) that it requires.  Elderly people in care homes, care home staff, those over 80, and frontline health workers are going to receive the vaccine first.
Pfizer announced in July that it has an agreement with the U.K. to provide 30 million doses of its vaccine.
In the U.S., the FDA is set to review the Pfizer/BioNTech vaccine and the companies' request for Emergency Use Authorization (EUA) on Dec. 10.  Yesterday, a CDC advisory panel met and voted to recommend that the first in the U.S. to receive the vaccine will be front line health workers and the elderly in care homes.
Moderna has also applied for an EUA and the FDA may review its request on Dec. 18.
Graphic courtesy UK's MHRA.