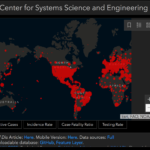 The Johns Hopkins COVID Dashboard for Wednesday, December 2 at 5:27 a.m.:
Worldwide cases: 64,054,194   Worldwide deaths: 1,484,164
U.S. cases: 13,741,687    U.S. deaths: 270,881
According to the Dashboard, the reported worldwide case report increased by 657,342  in the last 24 hours.  Deaths worldwide increased by 12,611
According to the Johns Hopkins Dashboard, the United States has added 187,649 cases in the last 24 hours.
In the last day,  the number of reported deaths in the U.S. from  COVID-19 increased by 2,447.
The COVID Tracking Project reports that 98,691 people were hospitalized with COVID-19 as of Monday.  This is the highest hospitalization rate since the pandemic began–more than double just a month ago, and hospitals in several states on the mainland are reporting they are at capacity.  The graphic below, from the COVID Tracking Project page, is a chart showing the COVID-19 hospitalizations between March 3 and December 1.  For the original (easier to read) click here.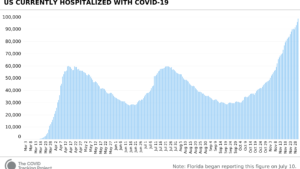 The most recent report from Hilo Medical Center on Friday was that they had no COVID-19 patients and had not had any since Monday, Nov. 23.  As of Monday, Kona Community Hospital reported it has no COVID patients.  North Hawaii Community Hospital is providing no information, saying it's a matter of patient privacy.