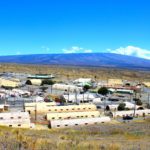 The Pōhakuloa Training Area (PTA) released a statement announcing events taking place this week.
Training will resume at PTA with convoys from Kawaihae to PTA on Wednesday, January 20 from 9:00am to 2:00pm and Friday, January 22 from 8am to 1pm
Artillery live-fire will take place on Thursday, January 21 from 6 a.m. to 6 p.m.
The remainder of the month consists of unmanned aerial systems training and aviation gunnery live fire.
For further announcements regarding future hunting opportunities, call PTA Public Affairs at 808-969-2411 with any questions.
Photo courtesy of Pōhakuloa Training Center