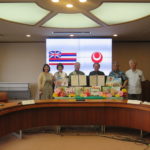 Gov. David Ige and First Lady Dawn Amano Ige recently visited the Okinawa Prefectural Government where they joined Japanese dignitaries in signing a Sister Library Agreement between the Hawai'i State Public Library System and the Okinawa Prefectural Library.
Mrs. Ige presented the Hiroshima Prefectural Library with two books including "Leilani Blessed and Grateful" by Iolani School teachers Greg Bowman and Alan Suemori, illustrated by Jamie Tablason; and "Snow Angel, Sand Angel" by author, poet, and educator Lois-Ann Yamanaka, illustrated by Ashley Lukashevsky. The books include educational facts about Hawai'i, activities for children, a glossary of Hawaiian words, and information about Hawai'i's ten climate zones.
The Okinawa Prefectural Government gifted two books to the children of Hawaiʻi including Inochi no Matsuri" which translates to "Festival of Life;" and "Eisa Daiko De Chimu Don Don" or "Eisa Drums Are Pounding and Exciting," a picture pop-up book on Okinawan traditions with explanations in both Japanese and English.
Photo Credit: Office of Governor Ige