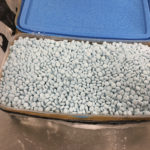 As part of its continuing community outreach about the dangers of fentanyl, the Hawai'i County Police Department (HPD) provides monthly updates on the number of County fentanyl related arrests (possession/distribution) quantity as well as the amount fentanyl recovered for the preceding month.
During the month of October, there was a total of three fentanyl related arrests, three in Area I (east Hawai'i) and zero in Area II (west Hawai'i).
Last month, police recovered a total of 43.69 grams of illicit fentanyl, including 1.79 grams in Area I and 41.9 grams in Area II. Police also recovered a total of 312 fentanyl pills, with zero recovered in Area I and 312 recovered in Area II.
For fentanyl safety tips visit https://www.hawaiipolice.com/services/crime-tips#fentanyl.
AP Photo