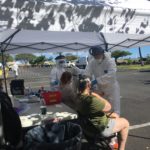 There will be COVID-19 testing this Saturday, Sept. 19, in the W. M. Keck Observatory parking lot in Waimea.   The testing is walk up–so drive or walk to Keck, park if you drove, and then walk to the testing.
Testing is scheduled from 9 a.m. until 11 a.m.
S&G Labs is doing the testing.  If you have insurance, please bring the cards or information for billing.  If you have no insurance, S&G Labs will need your social security card or social security number in order to bill the Federal CARES Act.   If you have insurance that is not Hawaii-based, insurance from the mainland or elsewhere, S&G will collect $150 and provide documentation so you can send the bill to your insurance company.
S&G Labs is also doing testing elsewhere on the island as follows, according to its web site and Hawaii County Civil Defense:
Hilo – Big Island Pain Center:
32 Ululani Street, Hilo HI 96720
Wednesday (every week) 4:00 PM – 6:00 PM
Friday (every week) 8 AM – 10 AM
Kona – S&G Labs Hawaii:
75-240 Nani Kailua Drive STE 2, Kailua Kona, HI 96740
Monday – Friday (every week) 5:00 PM – 7:00 PM